Are You Ready to Move to InformaCast Fusion?
If you're like most organizations, the way you communicate with your people has changed in the past five years, that's why many of our customers are moving from InformaCast Advanced to InformaCast Fusion. While many organizations selected InformaCast Advanced for its industry-leading paging and on-premises notification capabilities, several factors such as the need to take advantage of the cloud, reach people on mobile devices, and leverage critical event management features have made InformaCast Fusion an appealing option for organizations looking for a single solution that can make their emergency communication plans actionable.
If you've been looking to do more with InformaCast Advanced or are looking to consolidate additional systems to make up for gaps in your communication needs, there's never been a better time to move to InformaCast Fusion. In this blog post, we'll highlight the top ten benefits InformaCast Advanced customers can take advantage of when they move to InformaCast Fusion.
1. It's the InformaCast You Know and So Much More
With InformaCast Fusion, you keep everything you're already using in Advanced (paging, bells, desktop notifications) and add more endpoints, features, and capabilities to further enhance your organization's safety and communication.
2. Modern Architecture
InformaCast Fusion features a hybrid-cloud architecture that offers a more elegant solution for organizations looking to scale their deployment and improve resiliency. InformaCast Fusion offers High Availability, Distributed Activation, Survivable Remote Site Notification, and Failover to ensure that no matter what happens, messages get delivered.
3. More Ways to Reach People
You need to leverage every channel available when you're sharing critical information. InformaCast Fusion enables you to send text and audio notifications to your existing devices and adds mobile notifications (SMS text, email, and push notifications) and integration with collaboration tools like Microsoft and Webex Teams.
4. Multiple Panic Button Options
You may already use panic buttons on your desk phone or mounted devices to trigger notifications, but InformaCast Fusion offers three additional panic button options. Wearable devices, the InformaCast app, and keyboard shortcuts offer immediate methods to initiate notifications when people need assistance.
5. Desktop Alerts are Included
That's right. Reaching desktops with critical messages is included in InformaCast Fusion without needing additional licensing. You can continue to use InformaCast Desktop Notifier or leverage the cloud-based InformaCast desktop app to reach devices even if they are not on your network.
6. Complete Incident Management
It's not enough to send a message when an emergency occurs. You need to be able to manage an event from start to finish. This is a key advantage Fusion offers over Advanced. You can send alerts for every stage of an incident, gather key stakeholders, access safety resources, and view reports to assess your response and plan for the future.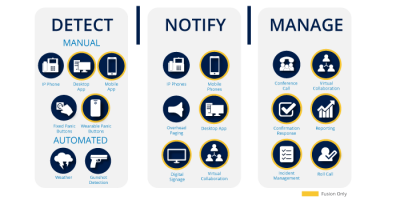 7. Expanded Phone Compatibility
Looking to change your phone system without losing the benefits of InformaCast? Fusion works with many UCaaS providers to offer greater flexibility for your evolving technology needs.
8. System Health Monitoring
Critical communications need reliable systems. InformaCast Fusion provides a system health dashboard that helps you ascertain that your system is functioning as it should. System administrators can proactively troubleshoot and resolve system issues and automated alarms help notify your team should issues arise.
9. Robust Feature Updates
We want you to get the most out of InformaCast, which is why we update Fusion every six weeks with new features and quality of life and usability enhancements. These updates are driven directly by customer input so we can respond to and meet your changing safety and communication needs.
10. Enhanced User Experience
InformaCast Fusion features a sleek, modern design that is easy to navigate. Your prebuilt emergency scenarios are displayed in your Command Center and the InformaCast app as easy-to-identify tiles so you can quickly activate your notifications and start your response from anywhere.
Singlewire Software is dedicated to ensuring a smooth transition from InformaCast Advanced to InformaCast Fusion. Contact your account manager or email [email protected] to schedule a demo of InformaCast Fusion so you can see how your organization will benefit from this powerful notification and incident management solution.