Microsoft Teams Paging
If your organization is making the move to a Microsoft Teams Phone System, you may be concerned about losing critical paging functionalities that help you communicate with your people. Broadcasting live audio messages via an overhead paging system can sometimes be the most effective way to get people to stop what they are doing and pay attention. Live audio offers a more intrusive means of reaching people than mass SMS text messages or emails as it can interrupt ongoing activities so people take notice. A new configuration between Microsoft Teams and InformaCast gives organizations using a Microsoft Teams Phone System the ability to broadcast audio pages throughout their organization. In this blog post, we'll outline how Microsoft Teams users can use InformaCast to send audio to overhead paging systems and other devices.
Sending a Page
When a user needs to send a page, they can place a call from the Teams app on their mobile device or PC, or they can use an IP phone that works with Teams. The InformaCast Fusion server is configured to accept calls from a Microsoft Teams approved Session Border Controller (SBC). With help from Microsoft Teams Direct Routing feature, calls destined for InformaCast are handed off to the SBC and delivered to the InformaCast Fusion server via SIP to match a DialCast pattern and trigger the audio broadcast to the IP Zone Controller(s) for overhead paging and to any other multicast compatible devices. Put in simpler terms, the user dials a phone number that is configured in Microsoft Teams to route to InformaCast via Direct Routing, and then is configured on InformaCast as a DialCast pattern to broadcast the audio. It is important to note that this setup only works for organizations that are using a Microsoft Teams Phone System with Direct Routing.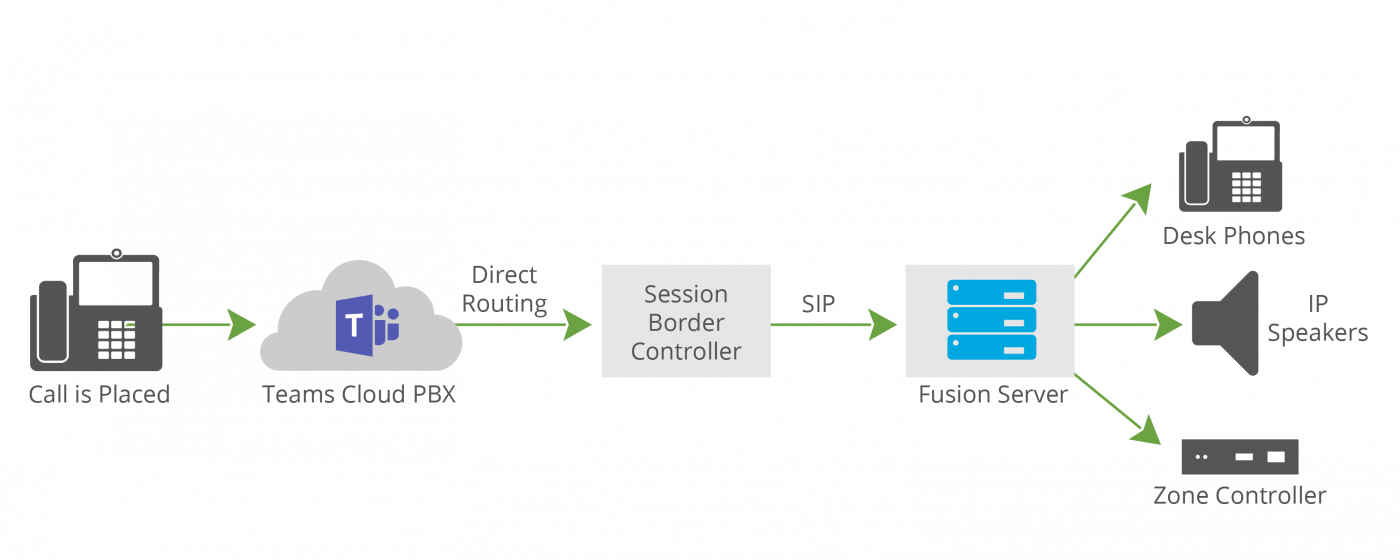 Other Mass Notification Uses
This adds another layer of beneficial features to the robust integration between Microsoft Teams and InformaCast. Teams' users can send and receive mass notifications about critical events without ever leaving the Teams interface with help from InformaCast. Messages are preconfigured with text and groups and can be sent to a Teams channel or individual users so the right message reaches the right people with the information they need to stay safe.
While delivering notifications to Microsoft Teams users can be effective, adding other endpoints can help ensure that no one misses a message. InformaCast notifications triggered from Microsoft Teams can be sent to other Teams users, mobile devices, digital signage, email, IP speakers, and more. The more channels an organization uses to get the message out, the more likely it is that everyone will receive and respond to it in a timely manner.
Manage Emergencies with Microsoft Teams
InformaCast can also send automated invites to key stakeholders to join a Teams channel to proactively manage incidents as they unfold. Quickly gathering the right people can help get assistance to those who need it with the utmost speed. Being able to assess a situation in real-time means decisions can be made faster so crises can be resolved without delay.
The feature set for InformaCast and Microsoft Teams continues to expand offering organizations more ways to keep their people safe and informed no matter what kind of emergency they encounter.